Following the completion of basic dental training, there are several different avenues that can be perused in terms of specialization. Depending on the area in which a dentist decides to focus their continued education, they can attend additional training courses of various lengths.
Dental specialization is a good way to increase one's employability and enhance knowledge and interest in their field. Here are some of the widely recognized types of dental specialties and what exactly they do.
1. Dental Anesthesiology
Anesthesiology is a discipline which focuses on the management of pain and anxiety during dental treatment. Due to the fact that some procedures are relatively invasive, it is important to ensure that the patient has been given sufficient medication to limit suffering and make the experience as comfortable as possible.
During any dental, oral, maxillofacial and adjunctive surgical or diagnostic procedures, a dental anesthesiologist is there to promote patient safety. It is important for a dentist in this position to be sensitive to the needs of diverse groups of people, including patients who might be very young or with special health care needs.
2. Dental Public Health
Public health dentistry is an ideal specialization for anyone who enjoys being active in the community and engaging in the lives of the people they treat. This realm of dental practice is largely concerned with controlling dental diseases and promoting dental health through organized community efforts. Rather than looking at every individual patient as an isolated case, a public health dentist is also concerned with looking at broader trends and seeing how their work could benefit the public at large.
Dental health education is also an important component for these types of dental specialties. Dental public health professionals mobilize the work of dental researches through the administration of programs as well as the prevention and control of dental diseases on a community basis.
3. Endodontics
This area of dental practice focuses on the morphology, physiology and pathology of the human dental pulp and periradicular tissues. It is a highly specific field of dentistry and ideal for those who enjoy the intricacies of scientific study and research. Based in the clinical sciences, the work done in this field can then be used for the diagnosis, prevention and treatment of diseases and injuries of the pulp and associated periradicular conditions.
4. Oral and Maxillofacial Pathology
Concerned with the nature, identification, and management of diseases affecting the oral and maxillofacial regions, oral pathology is a fairly extensive field of study. There are a fairly large range of dental diseases and this specialization investigates the causes, processes, and effects of all of them.
These types of dental specialties are fascinating for someone who loves advanced research, working in the field of oral pathology involved using clinical, radiographic, microscopic, biochemical, and other examinations.
5. Oral and Maxillofacial Radiology
Also incorporating the discipline of radiology, this field of dentistry is concerned with the production and interpretation of images and data produced by all modalities of radiant energy that are used for the diagnosis and management of diseases, disorders and conditions of the oral and maxillofacial region.
Training in this field generally includes all aspects of radiation physics, radiation biology, radiation safety, radiological technique, the patho-physiology of disease and interpretation of diagnostic images.
6. Oral and Maxillofacial Surgery
Oral and maxillofacial surgery is the specialty of dentistry which includes the diagnosis, surgical and adjunctive treatment of diseases, injuries and defects involving both the functional and esthetic aspects of the hard and soft tissues of the oral and maxillofacial region.
7. Orthodontics and Dentofacial Orthopedics
Orthodontics and dentofacial orthopedics are concerned with the correction of crooked teeth or malocclusion. This field of dental speciality also deals with any neuromuscular and skeletal abnormalities in the developing or mature patients.
8. Pediatric Dentistry
A great option for any dentist who enjoys working with children, pediatric dentistry is the field encompassing those who work exclusively with infants and children through adolescence. Many young people are predisposed to have a fear of the dentist, so it is important that anyone working in this field is patient and has a calming bedside presence.
That being said, providing preventive and therapeutic oral health care for youth can be a very rewarding field. Having a good dentist early on can help children develop positive habits that will serve them well for a lifetime.
9. Periodontics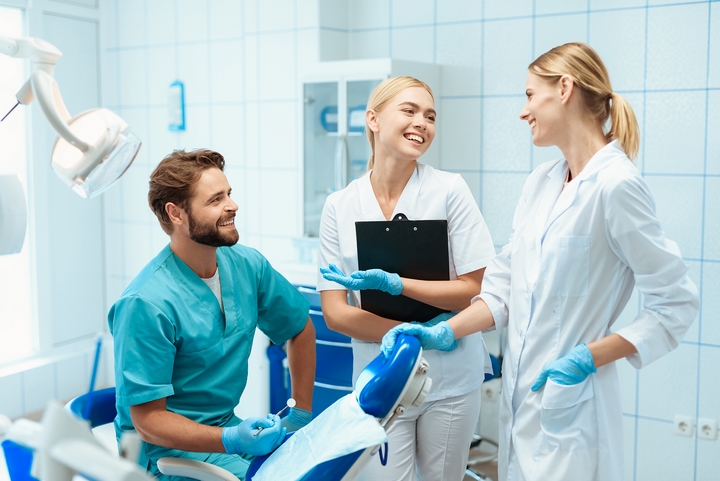 Periodontics is the area of dental practice concerned with the prevention, diagnosis and treatment of diseases of the supporting and surrounding tissues of the teeth. This also includes false teeth, encompassing everything from the maintenance of health, to the function and esthetics of these structures and tissues.
10. Prosthodontics
A specialization in prosthodontics will arm dentists with the knowledge they need to diagnose, treat, and provide proper rehabilitation and maintenance for patients with missing or deficient teeth and/or oral and maxillofacial tissues. A prosthodontist will be trained to provide comprehensive care, covering everything from the oral function, comfort, appearance and health of patients with this variety of clinical condition.